Legal Poker For Indiana Residents
Poker is a fun game that combines skill and the thrill of chance. A favorite among many gamblers, poker can be played in a variety of forms and a game can last from anywhere from a few minutes to several days. Most of all, poker is a fun activity that allows players to relax and enjoy the social nature of this game while (hopefully) collecting some extra cash along the way. This site will guide you through everything you need to know about legal poker in Indiana.
But the truth is that poker, as innocent an activity as it seems, is not allowed in many instances. States have enacted individual laws regarding gambling activity—poker included—and have, in some cases, worked to minimize the number of unregulated poker games that take place. The state of Indiana is one of the stricter in terms of the limitations that it has put on poker players. If you live in Indiana, it is a good idea that you get acquainted with these regulations so that you can make educated decisions regarding your gambling activity.
Indiana Poker Laws & Statutes
Indiana is quite strict when it comes to poker. Players in this state are able to engage in real money wagers regarding poker activity at licensed commercial casinos and authorized charitable events—and that's it. While many states exempt social games from the law as long as they abide by set guidelines, Indiana does not even allow for friendly games played for real money in private homes.
But the state's crusade against poker has gone farther than just restricting players on land. Indiana is one of just a few states that have actually passed laws regarding online gambling. These laws forbid the operation of online gambling sites within the state. But the key here is that they are geared toward operators—not players. As we will discuss further throughout the rest of the article, the ability to engage in poker games on the World Wide Web has become a great option for players in this state.
Is it Legal to Play Online Poker in Indiana?
The question here, really, becomes, "Is it safe to play online poker in Indiana?" The state of Indiana has passed laws that keep operators from running online poker rooms and other gambling activities from within the state. But the laws that were created to reduce Internet-based wagering activity target operators specifically—not individual players. As such, players often feel quite safe logging into their favorite online poker rooms.
But the other aspect of safe poker games rests with the choices that online gamblers make. If you are looking for a poker room, choose one that is operated in accordance with the laws of its geographic location. For instance, joining a poker room that is based in Indiana, where it is not allowed, is not the best idea. Instead, look for a room that is legal and that offers a high degree of support and information. A great rule of thumb is to follow the recommendations of experienced online gamblers whom you trust.
Can I Get into Trouble for Playing Online Poker Indiana?
If you recall from the previous sections, the law does state that operating online poker rooms within the state of Indiana is prohibited. But it is important to recognize that the law is targeted at operators—not at players. This means that the odds are strongly in favor of an operator being prosecuted for online poker activity instead of the individuals engaging in poker games on their site.
The key is to choose safe Internet-based poker rooms that will protect your information and strive to provide you with the most positive experience possible. Think of it this way: you are the consumer and the poker room is the business. The room needs to cater to your needs, meaning it should offer customer service, important information regarding security, etc., in order to win your business. If you don't feel as though a poker room is treating you right or is trustworthy it is best to move on to another one.
Legal Poker Sites That Accept Indiana Players
With no shortage of poker rooms available throughout the state of Indiana, most Indiana residents really know their poker. However, many of them still needlessly travel miles from home to play in tournaments with little to no choice as to what the stakes are or how the tournament will be played. Thousands of residents have countered this by signing up with any of the legal poker sites listed below.
Bovada Poker - Most Trusted Online Poker Room For Indiana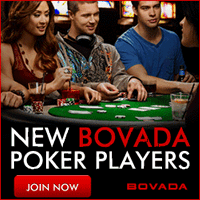 In any industry there is most usually one name that stands out above the entire field of competition. They are the ones who provide the standard while everyone else just struggles to catch up. In the field of legal online poker for Indiana residents, that name is Bovada. Bovada is one of the world's most secure financial networks, which means that players never have to worry about what happens to their money once it's turned over, they can just instantly log in and enjoy dozens of tournaments or ring games without giving it a second thought.
To entice new players to try out their excellent service and cutting edge poker software, Bovada poker is not afraid to sweeten the pot. Upon making the first deposit into their account, new users are eligible to receive a full 100% of their deposit back in free bonus money to use anywhere in the poker room. The only catch on receiving this bonus in full is that the account must be actively playing poker, which should be easily achieved. How many businesses pay out their customers for just using the product? Counting Bovada, there's at least one.
BetOnline Poker - All Indiana Players 18+ Welcome Here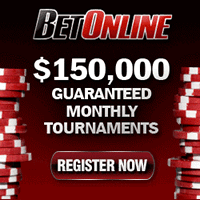 For those living in Indiana who crave an infinitely customizable legal online poker experience, they would do well to visit BetOnline, home to the fastest growing poker rooms in the world, bar none. The BetOnline poker software is just one fast, free download away and from there you will see exactly what the fuss is about. The poker software in this legal online poker room is sleek, elegant, and lightning fast.
However, the BetOnline poker room is not just about appearances. This legal poker site offers more tournaments than any other on the entire web, and there is a tournament for every taste. Whether a player wants to buy in for mere cents and play recreationally or enter in a fast and furious high stakes tournament, there is a table for that. Whether a user's preferred game is no-limit hold 'em or seven card stud, they will surely find a welcoming table for them in the BetOnline poker room. Check in around holidays for special, fun and promotional tournaments like a Valentine's Day tourney or zombie apocalypse hold 'em. There is no limit to the fun that may be had in the BetOnline poker room.
| Legal Indiana Poker Sites | Welcome Bonus | What To Play | Site Rating |
| --- | --- | --- | --- |
| Bovada Poker Play / Sign Up | $1,000 FREE - 100% Match | Hold'em - Omaha Hi/Lo - Stud Hi/Lo | |
| BetOnline Poker Play / Sign Up | Maximum $1K: 200% Rate | Texas Hold'em - Omaha Hi/Lo | |
| SportsBetting Play / Sign Up | 200% Match / $1,000 Max | Texas Hold'em - Omaha Hi/Lo | |
| 5Dimes Poker Play / Sign Up | Vary Weekly - Check Website | Texas Hold'em - Omaha Hi/Lo | |
Does Indiana Have Legal Land-Based Poker?
Land-based poker is quite restricted in the state of Indiana, as we have mentioned; however, there are places that you can go to engage in this game. Whether you are looking for a single game or to enter a tournament, licensed commercial casinos can provide you with the experience you are looking for. These casinos also house a wide range of other wagering activities, which many poker players enjoy in between games.
If you are attending a special charitable event you may have the ability to play poker there, as organizations that have received authorization from the state are able to host real money games as long as they abide by set guidelines.
Legal Land-Based Poker Rooms For Indiana Players
If you are in search of a fun, land-based poker experience, you would do best to turn to commercial casinos. These organizations offer a wide range of events and poker types. Additionally, they can provide you with other gambling opportunities that you might enjoy.
However, if you are looking for online gaming options, it is important that you choose a reliable poker room that is known for its honesty and, of course, fun. Make sure that you opt to support an online poker room that provides you with a fantastic experience—and that you can trust.
Future of Poker/Online Poker in Indiana
The laws that the state of Indiana passed against online gambling were adopted in 2005. In the many years since, the state has not made any move to further limit poker options for its residents. While the future of poker in any state is unclear, as there is no way to predict how upcoming political groups will feel about the subject, the state currently shows no indication of acting either for or against this particular activity.